Map + Location
Contact Information
© 2019 Saint Bernadette Catholic School
website by: Web Chick.com



ABOUT SAINT BERNADETTE CATHOLIC SCHOOL
St. Bernadette Catholic was built in 1965, and is surrounded by six acres of green space. We are a Preschool through 5th grade program, and an integral part of the St. Bernadette Parish community. We have a strong faith-based tradition which began with the Franciscan Sisters of Stella Niagara, NY. We continue that tradition. The community of St. Bernadette Catholic School is committed to developing the whole child. Students grow in the ability to love through an awareness of God's love, an acceptance of oneself and respect for others. Our students develop characteristics of leadership that enable them to live out their commitment as Christians in an ever changing world. St. Bernadette School strives to be child and family centered.

St. Bernadette Catholic School became fully accredited by OCSAA (Ohio Catholic School's Accrediting Association) in March of 1999. We have been in "full acceptance" since that time. Our school follows both state and diocesan learning standards and policies.
Our playground was designed by the architectural firm of Robert Leathers and Associates, well known for their developmental playground designs. Our students helped with the design and have been enjoying it for many years.

Our school received the Governor's Arbor Day Award, in recognition of our efforts in tree planting education. Each year, St. Bernadette School plants a tree to commemorate its First Grade. We have followed that tradition since 1995.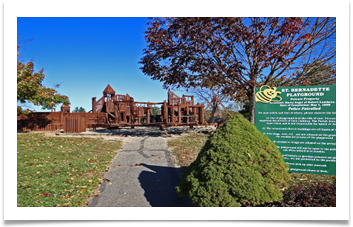 Visit Saint Bernadette Parish for Mass schedule and parish events with Today's Readings.
ABOUT
SAINT BERNADETTE
PARISH