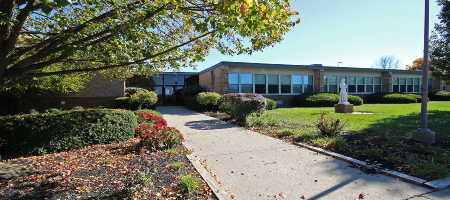 St. Bernadette School was built in 1965, and is surrounded by six acres of green space. We are a Preschool through 5th grade program, and an integral part of the St. Bernadette Parish community. We have a strong faith-based tradition which began with the Franciscan Sisters of Stella Niagara, NY. We continue that tradition. The community of St. Bernadette School is committed to developing the whole child. Students grow in the ability to love through an awareness of Godís love, an acceptance of oneself and respect for others. Our students develop characteristics of leadership that enable them to live out their commitment as Christians in an ever changing world. St. Bernadette School strives to be child and family centered.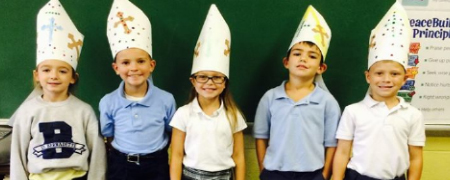 St. Bernadette Preschool is licensed by the state of Ohio. Our program provides a variety of developmentally appropriate activities. It is a progressive curriculum with a leveled learning approach, and encourages children to be actively involved with the learning process.

Our preschool program encourages students to learn through creative play, and, active exploration and manipulation of their environment. This program design develops the whole child-spiritually, cognitively, socially, emotionally and physically.

Our preschool is MADE TO ORDER. This means that parents can design a preschool schedule that will better accommodate the scheduling needs of the family.

We encourage you to schedule a visit - Come and see our preschool program in action!
Our Kindergarten through 5th grade program is focused on student performance. We have an ideal student to teacher ratio. We specialize in differentiated instruction-finding where students are and then meeting their needs.

Technology is utilized to help us move learning forward. St. Bernadette School incorporates the following into our program: Google Classroom, Reading A-Z (RAZ Kids), IXL Math, Spelling City.

We also use Orton Gillingham reading strategies to assist in the development of reading skills in the lower grades, and to help enhance vocabulary and decoding skills in the upper grades.
Individualized Instruction
St. Bernadette School provides learning environments that will maximize student success. We recognize the uniqueness of each student learner and provide tutorial guidance and support. Importance is given to the child as an individual, not as a class. We focus on how your child learns. The content of our curriculum and the pace of learning is based upon the abilities and interest of our students. Our goal is to have our students reach their highest potential!

Kindergarten Readiness
To attend St. Bernadette Kindergarten your child must be 5 years old on or before September 30th. St. Bernadette School believes that while no simple factor can determine whether a child is ready for kindergarten, your childís ability to think logically, speak clearly, and interact well with other children and adults are all critically important to success in school. A child's physical development also needs to be considered.

We encourage you to visit our kindergarten class. During your visit picture your child sitting in one of the chairs and joining in an activity.

The following readiness skills will enhance your childís kindergarten learning experience: Enthusiasm toward learning, solid oral-language skills, the ability to listen, the desire to be independent, the ability to play well with others, strong fine-motor skills, and basic letter and number recognition.

21st Century Skills
Students are provided with age appropriate opportunities such as STEM workshops, cooperative learning groups, collaborative groupings, and direct experience with technology (chrome books, I-pads, laptops, and Smartboards) all aimed to develop the necessary abilities to succeed in the information age. Students are encouraged to go beyond literal meaning and think deeply about issues, to solve problems creatively, to work in teams, to learn how to use the ever changing technology.
Our students put the buzzzzzzz in St. Bís!!
They are full of energy and laughter; are dedicated and intelligent. Our students are engaged. They want to come to school, and actively participate in learning. They feel safe. They make life-long friends here. Our students know that their parents partner with teachers to support their learning, and they talk with their parents about their experiences at school. Our students are prepared to attend the schools of their choice. They become doctors, teachers, West Point Cadets, play the trumpet in the marching band or develop their own business.

Our students know that we want them to succeed.
St. Bernadette School offers an extended day program (EDP) both before and after school. The program originated to assist families needing extensions in the school day due to work schedules. The EDP program is staffed by two licensed teachers, who have designed both enriching and developmentally appropriate activities (STEM experiences, critical thinking experiences, games and physical activities) for the students attending.
Map + Location
Contact Information
© 2016 Saint Bernadette Catholic School
website by: WebChick.com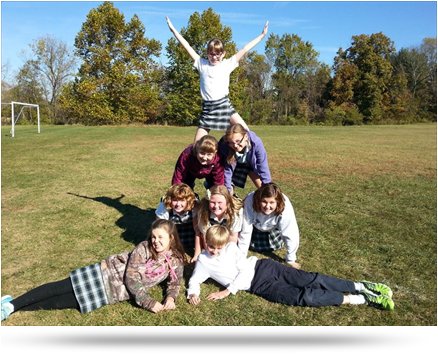 Saint Bernadette Catholic School
Preschool - 5th Grade Elementary
1325 Wheeling Road
Lancaster, Ohio 43130
P: 740-654-3137
Email: stbernlan@cdeducation.org
14
DEC

SPIRIT NIGHT AT RAISING CANE'S
>>view flyer
19-02
DEC/JAN

CHRISTMAS VACATION - NO SCHOOL
13
JAN

END OF GRADING PERIOD
16
JAN

MARTIN LUTHER KING DAY - NO SCHOOL
27
JAN

TEACHER PROFESSIONAL DEVELOPMENT
LATE START
14
DEC

SPIRIT NIGHT AT RAISING CANE'S
>>view flyer
19-02
DEC/JAN

CHRISTMAS VACATION - NO SCHOOL
13
JAN

END OF GRADING PERIOD
16
JAN

MARTIN LUTHER KING DAY - NO SCHOOL
27
JAN

TEACHER PROFESSIONAL DEVELOPMENT
LATE START